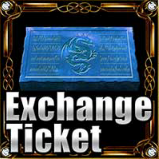 Exchange tickets are usually used to exchange for cards, materials, kujata or other items. They are given out when players obtain legend cp, and are usually part of a Card Pack in an event. One example is in the Chrono Manipulator Card Pack. A certain number of exchange tickets. They can be exchanged in the Card Pack section.
Exchange tickets cannot be traded in the market. However, they can be given to allies and guild members. To do so, go to the gifts page and pick the items tab. Exchange tickets can no longer be given as gifts.
Community content is available under
CC-BY-SA
unless otherwise noted.